Original WW2 German Splinter Helmet Cover, Fallshirmjager Paratrooper Uniform Cap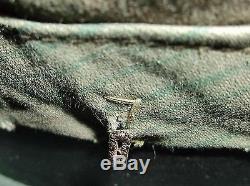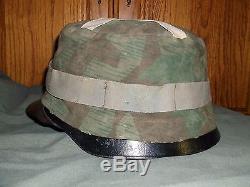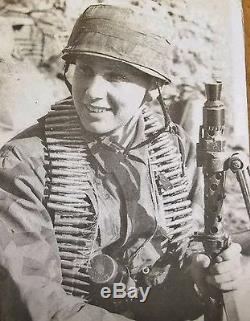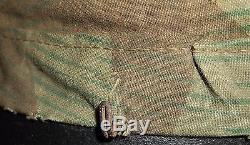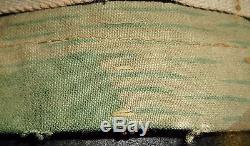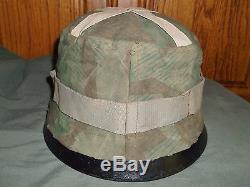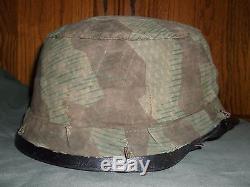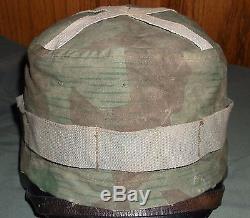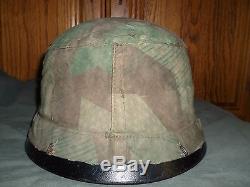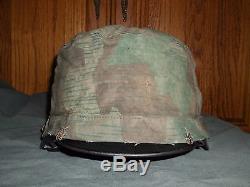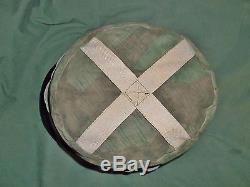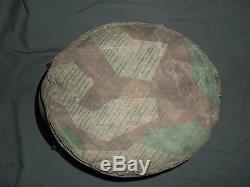 There are NO Hidden or Offensive Forbidden Symbols!! WW2 German Elite Luftwaffe Fallshirmjager (Air Force Paratrooper) Helmet Cover, Splinter Camouflage! Very Few Original Helmet Covers, like this one are for sale.
I was lucky enough to have this Beautiful Helmet Cover, in my Collection for many years. I do not have a Paratrooper Helmet to display the Cover on for the photos. The Cover is displayed on a M35, size 64, WW2 German shell. Every part of the cover is Original to WW2. There is a photo of a Young paratrooper wearing this exact same type of cover in the field, its a good comparison.
All of the Original Clips are intact, all of them use the same Correct style of stitching, to hold them into place. All of the thread used to make the cover is all Cotton thread, and is Correct WW2 German issue Thread. The Cover has never been cleaned, its in the exact same state as when it was sent home by the US Veteran that Liberated it. The US Military, when in Europe during WW2 was astonished with the different types and materials of the German Heer and Elite Camouflage.
Military, Searched for any Camouflage items they could find, so they could study them. In the hopes that one day, they could use the same Technology to make a similar type of there own. And that is exactly what they did. Military Camouflage, it is Based on the WW2 German style Camo. Also in the Books, Mr.
Beaver discusses how the US troops would often find many, Unfinished pieces of Camouflage uniform clothing, as the Combat Elite, Heer, Luftwaffe Paratroopers and Ground Troops, had much of its Camouflage clothing made in the field. Traveling, Small companies of Taylor's, would go from Unit to Unit, fixing, repairing and making Uniform items for the German Soldiers. This is a known Fact. This Rare piece of a Fallshirmjager Uniform, is a Good one. Once you receive the Cover, I always give 5 days for inspection.
You will have the time, to have the cover in hand to make a good decision, to be able to show the cover to whomever you like, to get a Confirmation of Authentication. If you choose to return the cover for any reason, let me know, within that 5 days time of inspection. If you have any Questions or would like to see any other photos, Please don't Hesitate to ask. I sell only original items.
All of my customers have left feedback, for everyone to see. Please see my other listings, I have Many other Original WW2, U.
German, Italian and Japanese items. Not only was he rude, but he was Very Wrong in his assessment. So I though it would be good to post my reply that I had sent to him, in regard to this Cover being made from Swiss Splinter material. I could post here, his rude message to me, but I have decided not to, as I do not want to give him any credit for being Rude and Very historically wrong. I also sent to him 3 photos that showed Original WW2 German Splinter with yellow eggs and Correct Swiss Splinter.
If anyone would like to see those photos as well, please message me and I will send them over, Thank you. Here is my reply to him. Thank you for the Rude message!
If you notice, all of the photos of the cover, I did not try to hide anything, every side, inside and out, are there for everyone to see. If it were Swiss Camo, it would have Green lines connecting the Green geometric shape areas, this cover does NOT! Was made of 5 Colors and German 4 colors! The Yellow eggs as they are called, are on the Swiss Splinter Camo. The WW2 German Splinter, in MANY cases also had the Yellow eggs as well. That is a Confirmed FACT. I would suggest to you, that it might be adventitious for you, to do a search on the Web and compare Swiss and WW2 German Splinter, during that Search on the Web you will come across Links for Forum Groups that discus this type of Camo. They also show photos in comparison of Real German Splinter to Real Swiss Splinter, so Real Collectors like you, will hopefully learn something about WW2 German Collectibles. Please do not contact me again in this rude fashion. You can do this by using Factual Evidence.
This Cover is original WW2 German! There are Many Fakes out there.
I would be Happy to answer any questions anyone has, at any time, as long as there is Politeness. See photos sent with this message.
This type of Factual Evidence comes with time. I have collected these items for many decades. Instead of contacting a person with rude Accusations, try being Polite, and perhaps you might learn something. This WW2 German Splinter Camo Cover looks NOTHING like Swiss Splinter and that is a Fact! This message was added to this listing for Everyone to see! Add a map to your own listings. The item "Original WW2 German Splinter Helmet Cover, Fallshirmjager Paratrooper Uniform Cap" is in sale since Sunday, December 20, 2015. This item is in the category "Collectibles\Militaria\WW II (1939-45)\Original Period Items\Germany\Hats & Helmets".
The seller is "rusty_ironice" and is located in Montello, Wisconsin. This item can be shipped worldwide.
Country/Region of Manufacture: Germany
Country of Manufacture: Germany
Original WW2 German Helmet: Original WW2 German uniform tunic Helmet cap hat
Original Rare WW2 German elite: Original WW2 Rare German Blurred edge helmet Cover
WW2 German helmet cover: Original WW2 German Field gear, Camoflage cap hat
WW2 German Elite Helmet: Original WW2 German Helmet Cover Hat Cap Tunic
Original WW2 German Camouflage: Original WW2 German Camouflage Helmet cover
WW2 German Blurred Edge: Original WW2 German Blurred Edge Camo. Uniform
Original WW2 German Militaria: Original WW2 German Militaria Collectible Helmet
WW2 German Collectible Uniform: Original WW2 German Collectible Uniform Cap
Original WW2 German Splinter: Original WW2 german Splinter Camouflage Cover
WW2 German Collectibles: Original WW2 German Collectibles Military Army

---