2004 WW2 GERMAN fighter ace pilot Oskar Bösch original SIGNED acrylic painting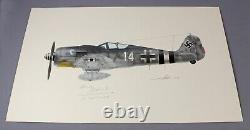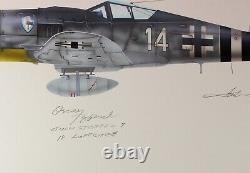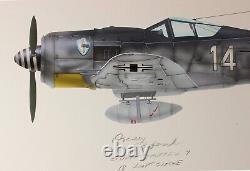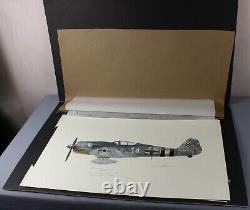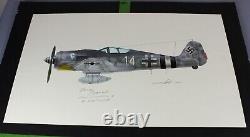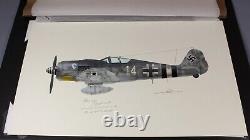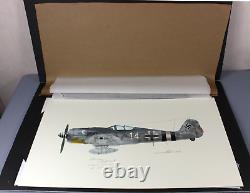 UNIQUE ORIGINAL ARTWORK - SIGNED IN PERSON BY GERMAN LUFTWAFFE PILOT OSCAR BÖSCH. BÖSCH Oscar, German fighter ace. White 14' - a unique piece of original acrylic airbrush painting of a Sturmstaffel 1 Focke Wulf Fw-190A-8 / R-8 fighter plane, signed by Luftwaffe pilot Oscar Bösch, and by artist John Valo.
Original profile painting of a German WW2. Sturmstaffel 1 Focke Wulf Fw-190A-8 / R-8. In airbrush acrylic on wove paper, on card.
Hand-signed in pencil bottom centre by pilot Oscar Bösch, with air squadron and number of victories beneath, also in pencil. The painting is also signed in pencil by the artist and dated 2004. Presented in a black folder. Sheet size: 63.5cm x 38.3cm approx. Carefully signed by the artist and pilot.
Please ask if you require a more detailed condition report, or view gallery images. A superb one-of-a-kind original artwork of a German. Focke Wulf Fw-190A-8 / R-8 -'White 14' - hand-signed and inscribed with squadron details in pencil by German fighet ace Oscar Bösch, who piloted this plane during WW2, as well as by artist John Valo. On the nose of the plane can be seen the emblem of Sturmstaffel 1.
Beneath his signature, also in pencil, are Bösch's air unit and number of air victories'Sturmstaffel 1 / 18 Luftsiege'. Oscar Bösch part of a unique squadron whose mission was to bring down allied bombers at any cost, which meant ramming the'enemy' plane if necessary. He started flying in the war in 1944, and was apparently shot down eight times [four bail outs and four crash-landings] during his 120 combat missions.
On his last mission he rammed a Russian Yak-9 fighter. After the war, he moved to Canada, where he became an acclaimed glider pilot. Valo is an American illustrator, based in Saint Cloud, Minnesota, specialising in aviation art. He produced this artwork in 2001.

---