Original WW2 Fascist Italian, Air Force Flak Arm Band Uniform helmet, German Allie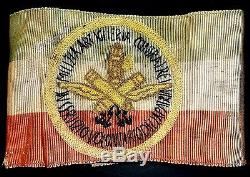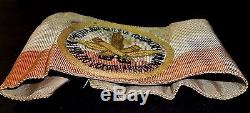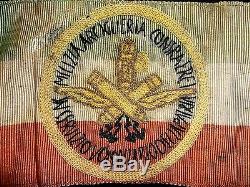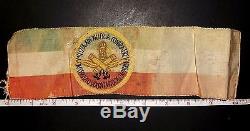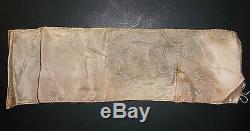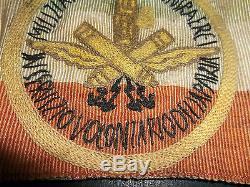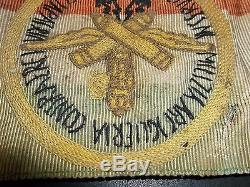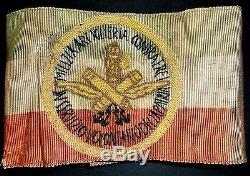 Please see the photos for condition and size, there is a ruler photo'd with the Arm Band for correct measurements. Original and Very, Very, Rare, this is the only one, I have ever seen like this! WW2 Fascist Italian Air Force, Hand Embroidered Wings With Artillery Cannons, With the Black Shirt Axe, Arm Band.
I Believe this Arm band was used by a Volunteer in the Italian Air Force Flak Artillery!! Which in the East - Russia and the Afrika Campaign, Italy was Germany's strongest Allie. These Italian Air Force Flak soldiers would have fought along side the Germans.
This Arm Band is in wonderful Combat used condition, Considering the Horrible War it has Survived. The Flag Colors of Italy are a little faded, as well as the Yellow Hand Embroidery and the Material on the reverse looks to be sweat stained, But, the Good News is, the Artistic Hand done Embroidery is in Wonderful condition no tears and fully readable!! On top of that, this is one of the rarest Pieces, I have seen in a very long time. It is Obvious, that these were hand made for a Company of Air Force Flak Artillery Volunteer troops. If interested please see my other listing's. Perhaps Towards the end of the War, Volunteers of this Flak Artillery Company were fighting in the last ditch effort, fighting the American Allies Air Force bombing Campaign's against Italy and Germany. Mussolini who was in Germany at that time, Leading the last of the Italian troops that he available, with the RSI!! Just Speculating, I Love this History! Considering the Wings, the cannons, and the Black Shirt Axe Emblem, I think, Perhaps Flak Artillery is an Extremely good Guess. This is one of the nicest Personal pieces, I have seen in a very long time.
When you hold onto a piece like this one, that has been worn by a Combat Soldier, that fought and may have Died for his Country, it is a Very Humbling feeling. I would assume, the reason why the Arm band is separated on the reverse, that happened when the Arm Band was removed from the previous Italian soldiers Uniform. Many of the items, that I have listed this week, came from the same place as this armband did, from the same U. Soldier, that brought them home from Italy. These War time Pieces are very hard to come by, undamaged.
This is a very beautiful piece and would look excellent on any Uniform Restoration. I wanted to add an extra note, I have spent a little more time studying the front Insignia of the Arm Band, and I may be changing my Speculated ideas.
I noticed more now, than before, the Lighting Bolts coming down under, what looks to be Bombs, not Cannons? That Perhaps, They were Bombing, as the Lighting Bolts indicate, and they are of course under the Air Force wings. So this Arm band, May have been a Volunteer unit for the Black Shirt Combat Pilots?? This one is so rare, it really should be in a museum.
Excellent Investment, these pieces grow in Value every year! Please see my other auctions, I have other Rare Fascist Italian Insignia and many more original German, Japanese and U. Add a map to your own listings. The item "Original WW2 Fascist Italian, Air Force Flak Arm Band Uniform helmet, German Allie" is in sale since Thursday, May 21, 2015. This item is in the category "Collectibles\Militaria\WW II (1939-45)\Original Period Items\Italy".
The seller is "rusty_ironice" and is located in Montello, Wisconsin. This item can be shipped worldwide.
Country/Region of Manufacture: Italy
WW2 Italian Fascist Insignia: Original WW2 Italian Air Force Uniform Arm Band
WW2 Black shirt Italian: Original WW2 Italian Fascist Artillery Arm Band
Original WW2 Italian Badge: Original WW2 Italian Badge Patch Insignia Award
Original WW2 Italian Patch: Original WW2 Italian Air Force Uniform tunic Patch
Original WW2 Italian Militaria: Original WW2 Italian Militaria uniform air force
Original WW2 Italian Uniform: Original WW2 Italian Uniform Tunic Jacket Insignia
Original WW2 Italian Air Force: Original WW2 Italian Air Force Armband Flak Gunner
WW2 Italian Collectibles: Original WW2 Italian Collectibles Antiques Collect
Original WW2 Italian Arm band: Original WW2 Italian Arm Band Hand Embroidered
original WW2 Italian navy Army: original WW2 Italian Army Air force Navy MVSN GIL

---