German Wehrmacht Campaign in Norway 1940 WW2 Norge Narvik Bergen Oslo Arendal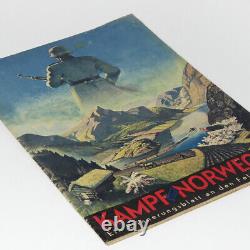 A remembrance magazine of the Campaign in 1940. Reports include the usual Norway locations like Narvik, Trondheim, Bergen, Egersund, Lillehammer, Arendal, Oslo and many others. Photos include Infantry, Kriegsmarine (Navy), Gebirgsjager (Mountain Infantry), Luftwaffe (Airforce) and Paratrooper (Fallschirmjager) units +++. 47 pages, text and photos. Lots of rare b&w photos.
Numerous maps of campaign progress. Good exterior and good interior condition. Mild traces of use and age. All pages are complete and tight in the binding.
Approx/Measurements: 11-3/4" x 10" 0.45 lbs.

---